Andres began his journey into the world of search engine optimization in 2000, during which time he became involved in the study of network protocols, including OSPF (Open Shortest Path First) and MPLS (Multiprotocol Label Switching). These protocols formed the backbone of his knowledge and understanding of how networks work. To expand his skills, Andres built international Internet connections using BGP (Border Gateway Protocol), a basic protocol for connecting various autonomous systems on the Internet.
As he mastered TCP/IP (Transmission Control Protocol/Internet Protocol) version 4 and 6 protocols, Andres understood the central role of the Internet in the functioning of the world. During this time, he began to explore the fascinating field of search engine optimization. Andres recognized the immense potential of SEO and content marketing and dedicated himself to mastering these techniques.
Throughout his career, Andres has constantly honed his skills and kept up to date with the latest developments in digital marketing. His passion for SEO has made him an exceptional strategist, always developing innovative techniques to help websites achieve higher visibility and top rankings in the Google search engine.
Achieving excellence in search engine rankings relies on a combination of top-notch SEO strategies and high-quality content creation. Prioritizing consistency and perseverance over shortcuts is crucial. Genuine competitiveness and long-term success in search results are attained through continuous effort, diligent study, and unwavering dedication.

Andres Castro
As CEO and founder of Andres SEO Expert and Miami Daily Life, Andres has built a successful company centered around his expertise. With his agency, he has helped numerous clients optimize their online presence and achieve remarkable results. With a client-centric approach, Andres tailors his strategies to the specific needs and goals of each client or business he works with.
In addition to his professional successes, Andres is passionate about sharing his knowledge and encouraging others. He actively participates in mentorship programs and contributes to the SEO community by sharing valuable insights and tips in his own blog posts and videos.
Andres Castro's journey from networking protocols to becoming a leading SEO expert exemplifies his drive for continuous learning and innovation. With his unwavering passion for SEO and digital marketing, he continues to make important contributions to the industry and help businesses succeed in the ever-evolving digital landscape.
Story about Andres SEO Expert in Semrush
Andres is constantly expanding his knowledge and skills by keeping up with the latest industry best practices and leveraging Semrush's continuous improvements. His commitment to helping businesses succeed online, along with his experience with Semrush, has made him a leading authority on SEO.
The story of Andres, an SEO expert at Semrush, serves as inspiration for aspiring digital marketers and businesses looking to harness the power of SEO. It illustrates the transformative impact of using the right tools and getting ahead of the curve, which ultimately leads to remarkable results in the highly competitive online landscape.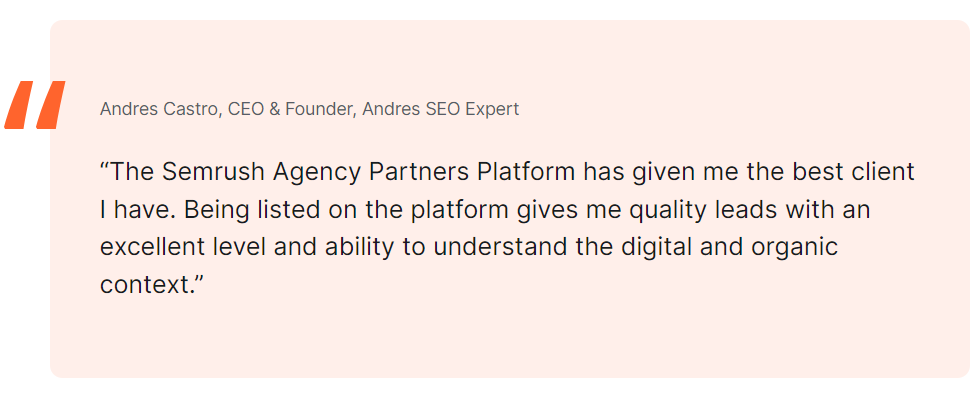 Our Commitment
Stripe Climate
Andres SEO Expert is a member of the Stripe Climate program and we are proud to dedicate 1% of our revenue to carbon removal. Removing CO₂ from the atmosphere is critical to combating climate change, but technology is currently lagging behind. A portion of every purchase at Andres SEO Expert helps spread the word about new CO₂ removal technologies.
Don't be afraid to give up the good to go for the great.

John D. Rockefeller